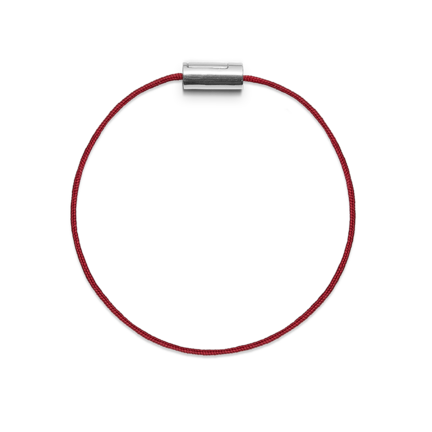 Red core bracelet w. silver clasp
16,5 cm.
460 DKK
Item number: 5150101-16,5
BLACK SUN core bracelet. Red nylon with silver lock.
Choosing the core bracelet is the first step if you want to design your own, unique Black Sun bracelet.

MAKE IT YOUR OWN:
Choose bracelet and add beads. 
BLACK SUN - MAKE IT UNIQUE
BLACK SUN has a completely unique expression - not least due to the choice of material. Choose the coulor of your core bracelet and the whether the lock should be in silver or 14 carat gold. Add beads in the materials and colours you want; gold, silver, driftwood, sapphires, rubies and emeralds or even diamonds.
Your choice is the expression of a completely personalized bracelet.

The raw expression and history of the wood side by side with the finest, classic precious stones and metals speak to our sense of being part of a larger context.